LIVE YOUR BEST LIFE, DIE A GOOD DEATH
We make detailed preparations to ensure a smooth and pleasant passage when embarking on a journey. We think about it carefully, from checking in at the airport, getting through immigration and customs, and making sure our hotel rooms are booked. All this is just for a holiday or business trip.
However, when it comes to the journey of our life, which ends in death, we are generally unprepared. Perhaps it's the fear of death itself that stops us from contemplating it. Instead, we distract ourselves with attachments, daily activities, work, family and relationships. In the end though, death comes to claim us whether we are prepared or not.
"Of all the footprints, that of the elephant is supreme. Similarly, of all mindfulness meditations, that on death is supreme." – Buddha
Death is a universal meditation topic and a teaching that exists within all Buddhist traditions. In fact, it is a universal experience that applies to everyone — Buddhists, non-Buddhists and freethinkers. And while contemplating on death may appear to be morbid, the benefits are surprisingly far-reaching. They can be felt in daily life. It's all about living well, rather than dying.
Death & Dying is a one-day guided meditation workshop to help you make the most of your life. Our senior pastors will introduce you to the Buddhist forms of death meditation and guide you through experiential exercises designed to transform your perspective of life and death. Whether you're new to meditation or a seasoned practitioner, this workshop is for you.
Course Details
April 9 (Sat)
9.00 am – 6.30 pm
Kechara Forest Retreat, Bentong
English & Chinese
Sign up early to avoid disappointment.
Can't make it for the workshop?
Scroll to the end for an invitation to a free live talk on Buddhist meditation.
Programme Outline
9.00 am: Covid screening
9.30 am: Registration
10.00 am: Introduction to death meditation
11.00 am: Guided contemplation 1
11.45 am: Experiential exercise 1
12.15 pm: Reflection 1
12.45 pm: Lunch
2.00 pm: Guided contemplation 2
3.00 pm: Experiential exercise 2
3.30 pm: Reflection 2
4.00 pm: Tea break
4.30 pm: Charnel ground meditation 1
5.00 pm: Charnel ground meditation 2
5.30 pm: Group sharing and debrief
6.30 pm: End
What's included?
Detailed explanations of the traditional contemplations
Guided meditation sessions
Experiential sessions
Course notes
Workshop materials
Pastor service & support
Lunch, tea and snacks
Covid nasal/saliva self-test
As a not-for-profit organisation, we do our best to make our programmes available at a reasonable rate. Your donation also supports the cost of facilities, sanitising of premises and overheads.
What to Bring
Notebook and pen
Water tumbler
Comfortable clothing that allows you to sit cross-legged on a meditation cushion
A shawl or sweater in case you feel cold
Medication or antihistamines if you have allergies to pollen, etc.
Face mask, face shield (optional) and hand sanitiser
Can I stay overnight?
Our guesthouses are open for booking if you'd like to spend the night in Kechara Forest Retreat. Priority room booking for 8 – 9 April will be given to programme participants who register by April 1.
See our rooms and rates.
Benefits of Death Meditation
Meditating on death helps us realise who we really are. We start appreciating all that we have, and this transforms our outlook in life. We will find it easier to forgive, and our focus will naturally shift towards things more worthwhile, like developing meaningful relationships and prioritising spiritual progress. Death meditation has the immense transformative power to awaken all of these qualities within us.
Furthermore, Buddha recommended meditation on death as a method to realise impermanence, a cornerstone teaching needed for the development of true wisdom. It is also the first meditational topic of the Lamrim teachings, which is a step-by-step guide to complete spiritual awakening.
"Death meditation brings many positive results.
You will find it easier to forgive and let go of past wrongs.
You will find it easier to change your negative habits.
You will find it easier to move ahead, plan and execute.
You will have less depression and loneliness.
You will have more harmony with loved ones.
You will be enthusiastic for spiritual work, practice, learning and thinking.
You will have a sense of urgency to do more meaningful activities in your life and with your life." – Tsem Rinpoche
Important Notes
To enhance your experience, you're encouraged to minimise the distractions of daily life. This includes using electronic devices such as mobile phones, tablets, and laptops throughout the workshop.
Prior to registration, participants must complete a COVID self-test at our designated screening area. A nasal/saliva self-testing kit will be provided. You may proceed with the workshop provided your test result is negative.
Observe social distancing guidelines, wear face masks/face shields and comply with other SOPs to minimise risk and ensure a safe experience for everyone.
Cancellation Policy: A partial refund will be issued for cancellations made at least five working days before the workshop date. An administration fee of RM30 will be charged. No refunds will be issued for cancellations made less than five days before the workshop start date.
The management reserves the right to amend the programme and/or revise prices without prior notice.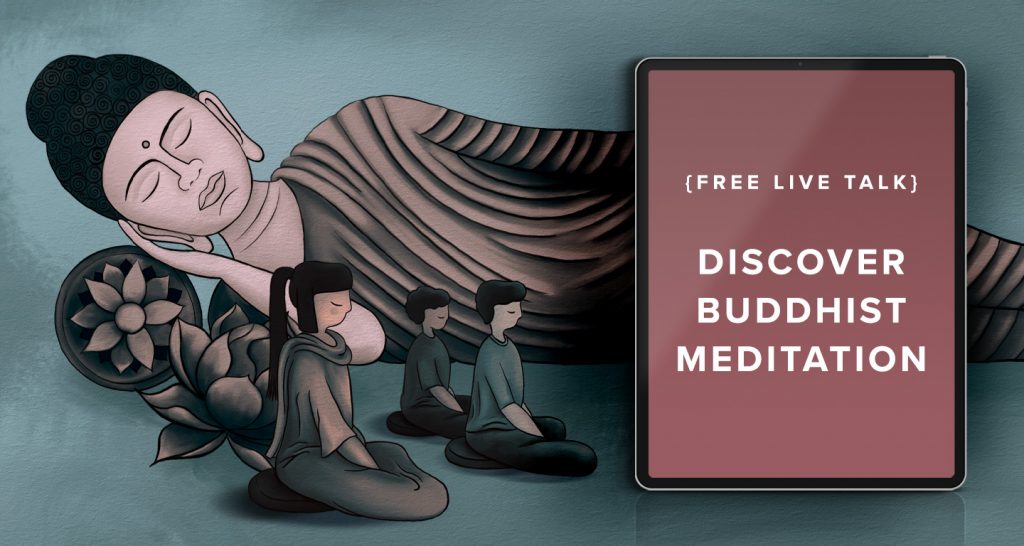 Free Live Talk: Discover Buddhist Meditation
Are you new to Buddhist meditation? Or do you want to try some basic forms of insight meditation but don't know where to start? Join our pastors for a free live talk to learn the principles of Buddhist meditation and how to start meditating at home.
If you're attending the Death & Dying Meditation Workshop, this introductory talk is highly recommended.
March 27 (Sun)
3.00 pm – 4.30 pm
English & Chinese
Zoom link will be sent to you a day before the talk. If you can't make the time, register anyway and we'll send you a replay of the session. Registration closes 26 March 12.00 am (GMT +8).