In conjunction with the Tsem Rinpoche Relic Stupa Project, we'll be conducting a special land blessing ritual at the site of Rinpoche's outdoor relic stupa. Called Sadag Tothig in Tibetan, this extensive ritual pacifies obstacles that may arise and consecrates the land prior to commencement of construction. This is done by obtaining the permission of the earth deities (land gods) and nagas to use the land for the purpose intended.
Nagas are powerful beings with the ability to control the weather, increase fertility, and bring good fortune, wealth and positivity. However, they are sensitive and when offended, they can inflict diseases, create obstacles and natural disasters. In particular, many cancers, skin-related conditions and family problems arise due to us knowingly or unknowingly offending a naga. Hence the Abbot Emeritus of Shar Gaden Monastery, His Eminence Kensur Rinpoche Lobsang Phende recommended that this ritual be performed so that the nagas are benefitted and undisturbed by the on-going construction.
As part of the ritual, the Earth Treasure Vases (Sachu Bumpa) that we're currently making in Kechara Forest Retreat will be buried at the site of Rinpoche's stupa. These vases are energised with Lama Tsongkhapa's mantra and blessings, and filled with over 100 precious substances, medicines and herbs to bless, nourish, heal and please the nagas dwelling in the area, particularly the Naga King and the Eight Great Nagas. When the nagas are pleased, they will bring many benefits including good health, recovery from naga-related illnesses and afflictions, abundant resources, and a fertile and serene environment with the five elements in balance.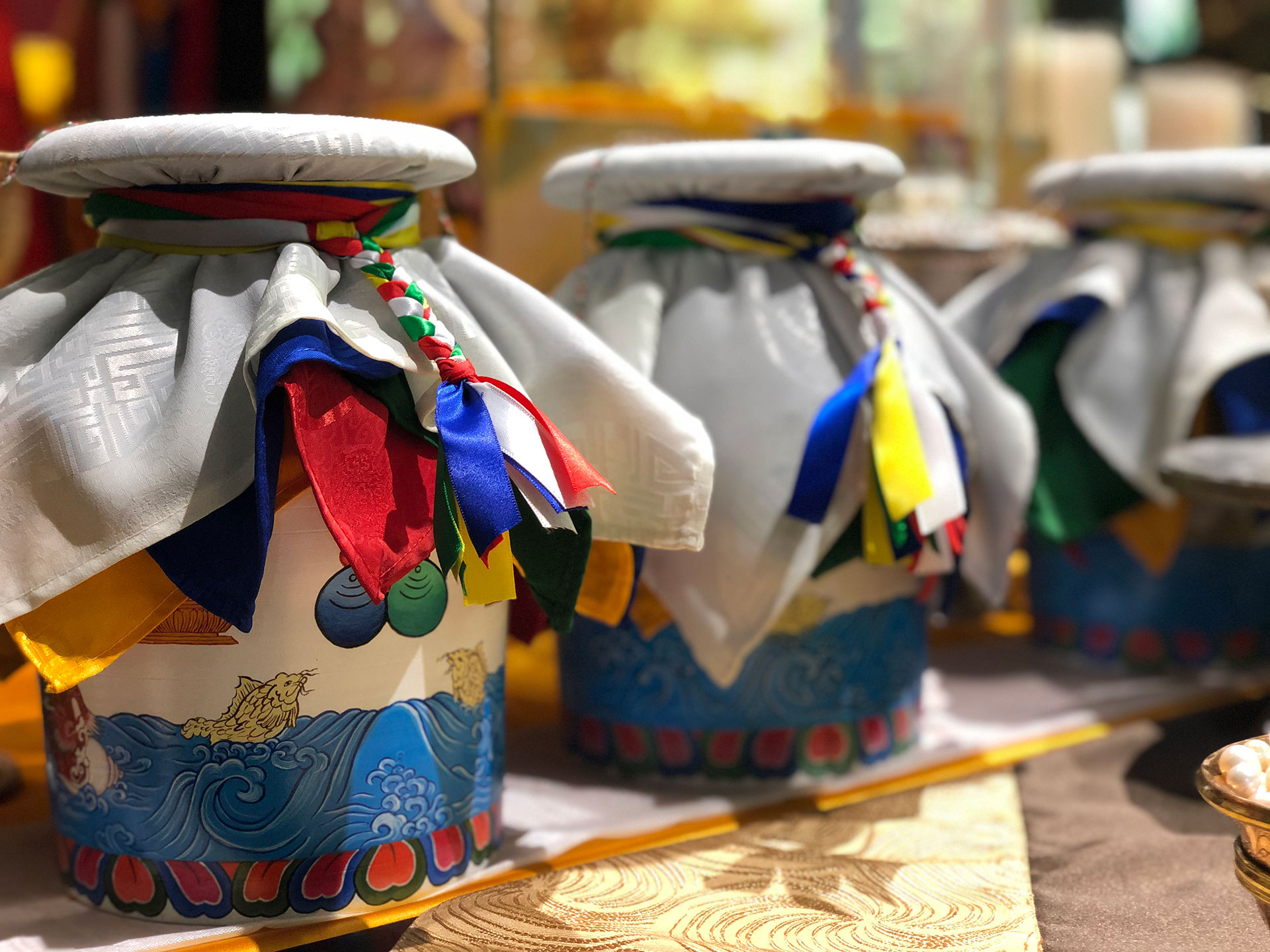 Event Details
Wednesday, 18th March 2020
6.00pm – 7.30pm
Kechara Forest Retreat, Bentong
Programme
6.00pm: Land blessing ritual and Earth Vase burial
6.45pm: Public offering ceremony and Tsok
7.30pm: End
How you can participate
Admission is free and all are welcome. Attendees will have the opportunity to create a good connection with the nagas by paying respects, circumambulating the naga "garden" that will be specially constructed for the day, and making offerings of flowers and special naga incense.
You can also bring home a small quantity of blessed earth from the puja, which represents the Naga King's permission and pleasure. This potent substance can be sprinkled in your garden or backyard for protection from nagas, or on a piece of land prior to beginning construction or renovation projects to pacify obstacles that could arise.
If you plan to attend the puja, you are strongly encouraged to observe a naga-friendly diet (no meat, eggs, fish, garlic, onion, alcohol, radishes or strong-smelling foods like durians). You should also observe a high level of personal hygiene on the day of the puja.
If you'd like to contribute towards the costs of the Land Blessing Puja and Earth Treasure Vases, you can do so via our Front Desks in Kechara House & Kechara Forest Retreat (please quote Project Code KH 0037 when you make your contribution), or via the Tsem Rinpoche Parinirvana Fund at VajraSecrets.com. Any amount is welcome.
We're also seeking main sponsors for each Earth Treasure Vase (RM2,000 per vase, 5 vases available).
NOTE:
Names of sponsors who contribute RM500 and above will be recited during the puja dedication.
Names of all other sponsors will be dedicated during the puja, but will not be orally recited
For more information and to RSVP your attendance, please get in touch with us at +609 221 5600, +603 7803 3908, +6012 987 3908 (WhatsApp only) or [email protected].