Light the light of wisdom with candle offerings to the Second Buddha.
Tsongkhapa Day or Ganden Ngamchoe commemorates the enlightenment and parinirvana of Lama Tsongkhapa, the 14th-century Buddhist scholar and saint who founded the Gelugpa school of Tibetan Buddhism. Also known as the Butter Lamp Festival, it falls on the 25th day of the 10th Tibetan month.
As merits accumulated on this auspicious day are multiplied 100,000 times, devotees typically make extensive offerings and engage in Guru puja practices. Furthermore, gathering in prayer together strengthens the quality of our spiritual practice and brings us the blessings of the lineage masters to remain steadfast on the path to enlightenment.
Celebrate Tsongkhapa Day on December 7 (Thursday) with an evening of prayer and fellowship in Kechara Forest Retreat. The highlight of the event is a traditional Lama Chopa Tsog puja complete with ritual music and sacred melodies. This will be followed by Tsem Rinpoche's Swift Return puja.
Event Details
Dec 7, 2023 (Thu)
6.30 pm – 10.00 pm
Kechara Forest Retreat + Livestream
Programme
6.30 pm Lama Chopa Tsog puja
8.15 pm Tsem Rinpoche's swift return puja
9.30 pm Candle lighting ceremony
10.00 pm Goodbye
On this auspicious day, our sangha and pastors will be renewing their pastorship vows. You're welcome to witness the vow renewal ceremony which will be held in Wisdom Hall, Kechara Forest Retreat at 11.00 am.
Who is Lama Tsongkhapa?
Lama Tsongkhapa (1357-1419), the patron saint of the Gelug lineage, is widely known for his scholarly prowess, unwavering guru devotion and great deeds. Some of the most well-known include the founding of the Three Pillars of the Gelugpa tradition — Gaden, Sera and Drepung Monasteries, establishing the Great Prayer Festival (Monlam Chenmo) in 1409, and composing the Lamrim Chenmo — The Great Exposition of the Stages of the Path.
Known as the Second Buddha of our fortunate time, this great saint led a life of the highest ethics, held his vows perfectly and was instrumental in the revival of Buddha's teachings that were deteriorating during that period of time.
At the age of 63, Lama Tsongkhapa entered into Samadhi meditation, made extensive inner offerings and then stopped his breath. Many witnessed his body transform to that of a 16-year-old, with rainbow lights emitting from it. These signs are all hallmarks of an extraordinary being's parinirvana.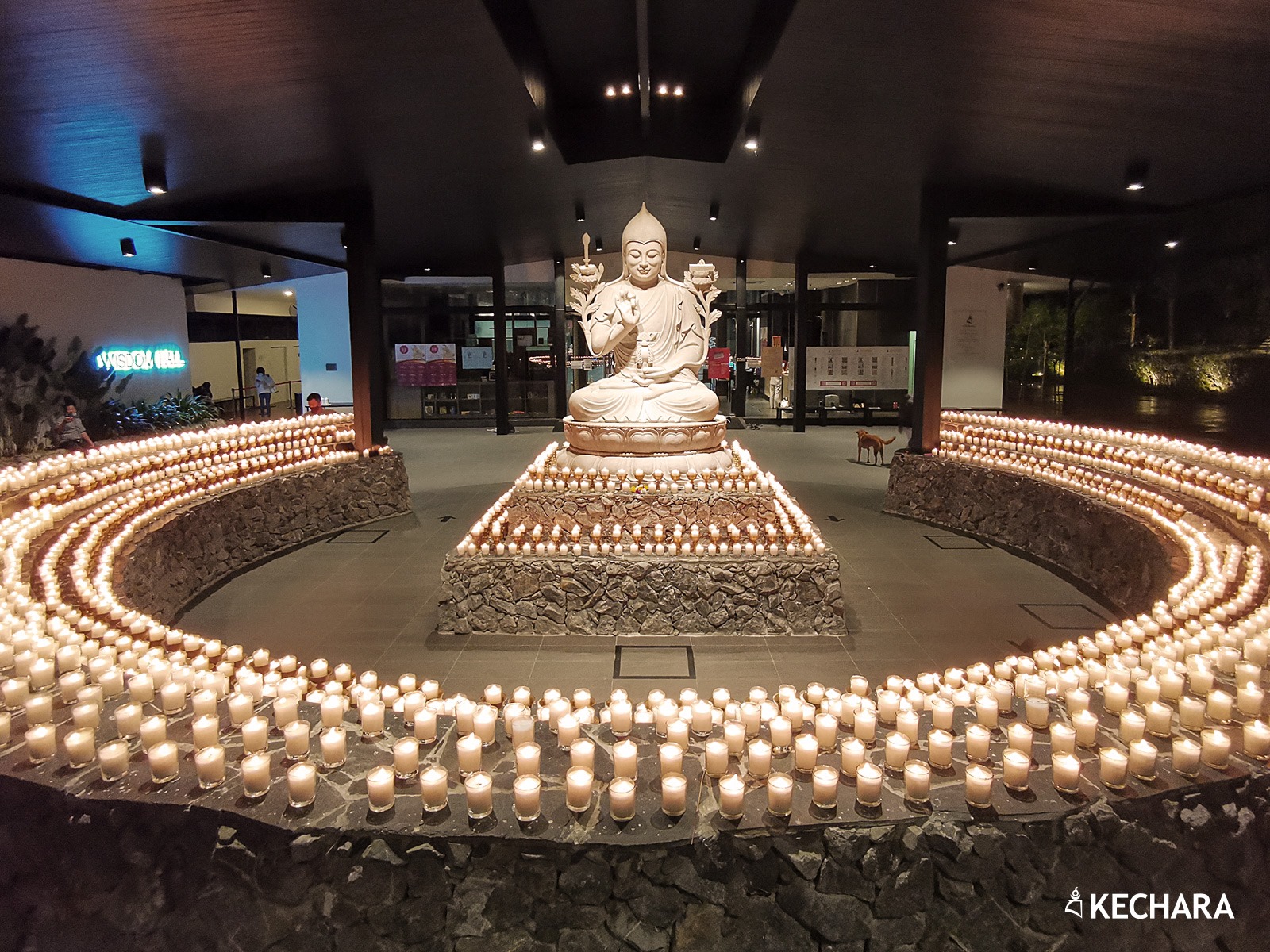 The stunning Lama Tsongkhapa shrine at Kechara Forest Retreat
Tsongkhapa Day Offerings
Make abundant light offerings to the holy statue of Lama Tsongkhapa in 'long life form' at Kechara Forest Retreat. Our Tsongkhapa Day offering packages also include light offerings to Tsem Rinpoche's Relic Stupa to receive the potent blessings of the lineage masters.
CLARITY LIGHT OFFERING | RM99
7 candles to Lama Tsongkhapa
3 candles to Tsem Rinpoche's Relic Stupa
---
COMPASSION LIGHT OFFERING | RM180
9 candles to Lama Tsongkhapa
9 candles to Tsem Rinpoche's Relic Stupa
Smoke offering to Lama Tsongkhapa
---
WISDOM LIGHT OFFERING | RM300
18 candles to Lama Tsongkhapa
10 candles to Tsem Rinpoche's Relic Stupa
Smoke offering to Lama Tsongkhapa
Prayer dedication
---
TSONGKHAPA DAY PUJA SPONSORSHIP | RM108
Special Lama Chopa Tsog puja
Tsem Rinpoche's Swift Return puja
Tsog offerings
Puja dedication tablet
---
A LA CARTE OFFERINGS
Candle offering RM10
1-ft incense offering RM10
Flower offering (stalk) RM10
Animal liberation RM30
Tsog offering RM30
1-ft dragon incense (set of 3) RM38
2.5-ft dragon incense (set of 3) RM88
Puja contribution Any amount
To learn more about our Tsongkhapa Day offering service and to pre-order your package, WhatsApp wa.me/60103020999 or visit VajraSecrets.com.
Orders close Dec 7, 2023 (Thu) 8.30 pm (GMT +8).
Offerings and pujas will be performed on your behalf on Tsongkhapa Day.
If you're a Kechara Member or Kechara Friend, you can collect Reward Points for your Tsongkhapa Day offerings.