#DoMore All Day in the Forest
Celebrated by Buddhists everywhere, Wesak Day commemorates the three most significant events in the life of Buddha Shakyamuni – the birth of Prince Siddhartha Gautama, his Enlightenment in becoming Buddha Shakyamuni and the occasion of his parinirvana.
Of all the days in the year, the holiest for Buddhists is Wesak. It is so sacred that the merits from any virtuous deed performed on this day are multiplied 100,000 times.
This Wesak on May 19th, join us for a full day of virtuous deeds and meritorious activities at Kechara Forest Retreat from 8 am to 10 pm. Featuring crowd favourites like bathing the Buddha, pastor blessings and special Wesak prayers, this all-day event culminates in a candlelight procession around Kechara Forest Retreat's Holy Walk.
Event Highlights
Special Wesak prayers | Animal liberation | Buddha bathing | Mantra recitation | Holy Walk | Children's baptism* | Procession of light | Prayer wheel spinning | Pastor blessings | Sutra writing | Car blessings* | Offerings to the Buddhas | Free vegetarian meals | Children's activities | Wesak bazaar & more!
Programme
8:00 am – Eight Mahayana Precept Vows Ceremony*
9:00 am – Children's Baptism*
9:30 am – Animal Liberation
10:15 am – Opening Ceremony
10:30 am – Special Wesak Prayers (Lama Chopa Tsok)
12:30 pm – Lunch
2:30 pm – Dharma Talk (English/Chinese)
3:30 pm – Special Wesak Prayers (16 Arhats Puja)
5:45 pm – Vegetarian Vows Ceremony
6:15 pm – Wesak Raffle Draw
6:30 pm – Dinner
8:00 pm – Procession of Light
* Pre-registration required. Closing date: 17 May 2019.
* If you are taking the Eight Precepts, you are encouraged to attend a short briefing. Two sessions will be conducted: 8 pm on Friday 17 May at Kechara House in PJ (English) and 11 am on Saturday 18 May at Kechara Puja House in Bentong (Chinese). If you cannot be physically present, please tune in to the livestream on Facebook.
* If you are registering a child for baptism, please click here to learn more about the necessary preparations.
What's Next?
To register for the Eight Precept vows ceremony, children's baptism or car blessing, please call +609 221 5600 or email [email protected].
For other enquiries and sponsorships, please get in touch with us at 09 221 5600, 03 7803 3908, 012 987 3908, [email protected] or visit our online partner at VajraSecrets.com.
Wesak Offerings
Dedicate merits to your loved ones, your family and yourself with auspicious offerings at Kechara Forest Retreat. Pick up a value offering bundle (available for pre-order until 18 May 2019; enjoy a 10% off early bird promotion if you order before 1 May 2019) or choose from our range of a la carte offerings. You'll also stand a chance to win a pilgrimage trip to Kathmandu, Nepal with every purchase of a Wesak raffle ticket!**
A La Carte Offerings
Essential Offering Bundle | RM250
10x Candles
1x 2.5ft Incense
1x Wesak Puja Dedication Tablet
1x Wesak Raffle Ticket
Twin Offering Bundle | RM550
21x Candles
2x 2.5ft Incense
1x Mantra Stone
2x Wesak Puja Dedication Tablet
2x Wesak Raffle Ticket
Family Offering Bundle | RM880
32x Candles
1x Giant 8ft Incense
3x Mantra Stone
3x Wesak Puja Dedication Tablet
3x Wesak Raffle Ticket
Grand Offering Bundle | RM1,850
49x Candles
3x Giant 8ft Incense
3x Mantra Stone
1x Light Offering Retreat (one month)
3x Wesak Puja Dedication Tablet
5x Wesak Raffle Ticket
Ultimate Offering Bundle | RM3,888
108x Candles
5x Giant 8ft Incense
5x Mantra Stone
5x Wesak Puja Dedication Tablet
10x Wesak Raffle Ticket
Offering Body, Speech & Mind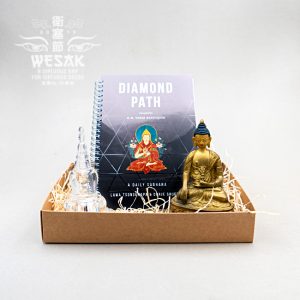 Another popular offering during auspicious days such as Wesak is the body, speech & mind offering. Making these traditional offerings creates the causes for you to achieve the enlightened body, speech and mind, and to create a closer connection to the spiritual guide.
Choose from our range of value-for-money Wesak body, speech & mind bundles starting from as low as RM200. Or, if you want something different, pick your own body, speech and mind offerings + a bonus add-on and enjoy discounts of up to 50%!
Get these as an offering to H.E. Tsem Rinpoche for Wesak Day or invite one home for yourself. To get yours, walk-in to any of our retail outlets in SunwayMas or order online at VajraSecrets.com.
**Wesak Raffle Terms & Conditions
The grand prize for the Wesak raffle is a 6D5N pilgrimage trip organised by Kechara, departing from Kuala Lumpur, Malaysia to Kathmandu, Nepal from 26 – 31 December 2019.
Winners are determined by a random draw and will be notified via the email address/contact number provided.
Each Winner will be entitled to ONE (1) prize only.
Winners must respond to the notification within 2 days of receipt, otherwise the prize will be forfeited.
Winners shall be solely responsible for any costs and expenses which may be incurred in the redemption and/or use of the Prizes including shipping costs and travel to Malaysia (if applicable).
Prizes are non-transferable and not redeemable for cash.
We reserve the right to amend prizes for the Wesak raffle without prior notice.
We reserve the right to amend or add to these terms & conditions without prior notice.
Other terms and conditions apply.