Make 100,000x merits on Buddha's birthday
Wesak is the most important day of the year for Buddhists everywhere. Why is it so significant? Because this day commemorates the three most momentous events in the life of Buddha Shakyamuni — the birth of Prince Siddhartha Gautama, his enlightenment as Buddha Shakyamuni and the occasion of his parinirvana.
In fact, Wesak is so sacred that the merits from any virtuous deed performed on this day are multiplied 100,000 times! So join us on Wesak for a full day of virtuous deeds and make 100,000x merits with the whole family.
Event Details
May 4, 2023 (Thu)
8.30 am – 5.30 pm
Kechara Forest Retreat, Bentong
Highlights
Special Wesak prayers | Buddha bathing | Pastor blessings | Car blessings | Animal liberation | Holy walk | Wesak offerings | Vegetarian vows | Refuge ceremony | Raffle draw | Children's baptism | Wesak bazaar | Vegetarian food fair | Children's activities & more!
Programme
8.30 am Refuge Ceremony*
9.15 am Animal Liberation
10.00 am Wesak Lama Chopa Tsok Puja
11.45 am Lunch
1.00 pm Car Blessing 1**
1.30 pm Vegetarian Vows Ceremony**
2.30 pm Children's Baptism**
3.30 pm Wesak Manjushri + Dorje Shugden Puja
5.00 pm Car Blessing 2**
5.30 pm Goodbye
*Pre-registration required.
**Pre-registration recommended
Closing date for Refuge registration: 5.00 pm (GMT +8) April 28, 2023 (Fri).
Closing date for other registrations: 5.00 pm (GMT +8) May 2, 2023 (Tue).
Take the Eight Precepts for Wesak
Our pastors will be giving the Eight Mahayana Precepts vows the night before Wesak. All Buddhists are encouraged to take these vows and observe these precepts for a 24-hour period on Buddhist holidays to collect a tremendous amount of merits.
Eight Precepts Ceremony
May 3, 2023 (Wed)
9.00 pm (GMT +8)
Kechara House (in-person) or Zoom (online)
Free
The 8 Precepts are to abstain from:
Killing, whether directly or indirectly
Stealing and taking what is not given
Sexual activity
Lying and deceptive speech
Using intoxicants
Eating after noon
Dancing, singing, playing music, and wearing cosmetics, perfume, and jewellery
Using luxurious beds and seats with pride
To take the Eight Precepts:
Register here by 5.00 pm (GMT +8) May 2, 2023 (Tue).
Download the prayers in advance if you are joining the ceremony online.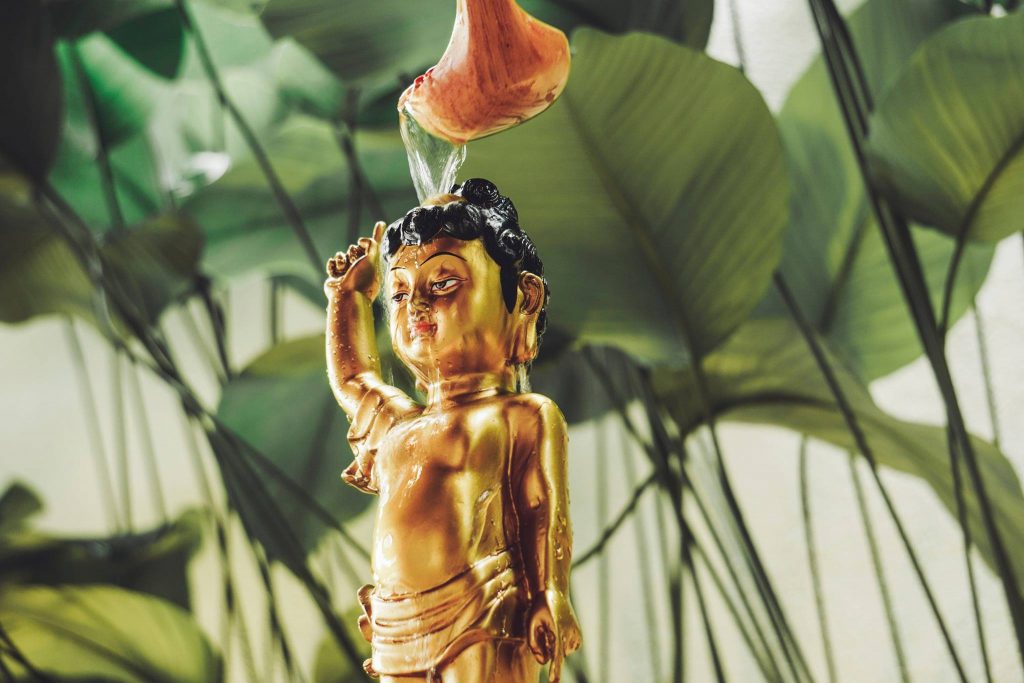 Wesak Offerings
Dedicate special prayers and oceans of merits with our Wesak offering packages. Most packages include Wesak Raffle Tickets for a chance to win great prizes such as
One Year of Light Offerings (worth over RM1,000)
Inner Peace Retreat for 2 pax (worth over RM1,000)
Wish-fulfilling Dorje Shugden Puja (worth RM400)
Medicine Buddha Puja (worth RM300)
Vajrasecrets gift vouchers worth up to RM300
One night stay in Manjushri Guest House for 2 pax (worth up to RM280)
All proceeds from the Wesak Raffle Draw support the maintenance of the temple.
BASIC OFFERING BUNDLE | RM99
3 x Light Offerings
1 x 1-ft Dragon Incense (set of 3)
1 x Dedication Tablet
1 x Food Offering (small)
---
ESSENTIAL OFFERING BUNDLE | RM198
5 x Light Offerings
1 x 1-ft Dragon Incense (set of 3)
1 x Dedication Tablet
1 x Buddha Bathing
1 x Wesak Raffle Ticket
1 x Food Offering (small)
---
TWIN OFFERING BUNDLE | RM399
10 x Light Offerings
2 x 1-ft Dragon Incense (set of 3)
2 x Smoke Offerings
2 x Dedication Tablets
2 x Buddha Bathing
2 x Wesak Raffle Tickets
1 x Food Offering (medium)
---
FAMILY OFFERING BUNDLE | RM999
20 x Light Offerings
3 x 1-ft Dragon Incense (set of 3)
3 x Smoke Offerings
3 x Dedication Tablets
3 x Buddha Bathing
3 x Wesak Raffle Tickets
1 x Wesak Heart Sutra Puja
1 x Food Offering (large)
1 x Flower Offering (posy)
1 x Animal Liberation (medium)
---
ULTIMATE OFFERING BUNDLE | RM2,988
108 x Light Offerings
5 x 2.5-ft Dragon Incense (set of 3)
1 x Smoke Offering with Pastor Service
5 x Dedication Tablets
5 x Buddha Bathing
10 x Wesak Raffle Tickets
1 x Wesak Heart Sutra Puja
2 x Food Offerings (extra large)
2 x Flower Offerings (posy)
2 x Animal Liberation (large)
---
A LA CARTE OFFERINGS
Candle offering RM10
1-ft incense RM10
Wesak dedication tablet RM30
Buddha bathing RM30
Animal liberation RM30
1-ft dragon incense (set of 3) RM38
2.5-ft dragon incense (set of 3) RM88
Wesak raffle ticket (for temple maintenance) RM100
Brick of Merit From RM150
Wesak Heart Sutra puja RM288
Smoke offering with pastor service RM388
Wesak puja offering Any amount
To learn more about our Wesak offering service and to pre-order your package, WhatsApp wa.me/60103020999 or visit VajraSecrets.com.
Orders close May 4, 2023 (Thur) 4.00 pm (GMT +8).
Offerings and pujas will be performed on your behalf on Wesak Day.
If you're a Kechara Member or Kechara Friend, you can collect Reward Points for your Wesak offerings.
Offering Body, Speech & Mind
It is auspicious to make body, speech & mind offerings on Wesak Day. These traditional offerings help us achieve the enlightened body, speech and mind, and create a closer connection to the spiritual guide.
Choose one of our Wesak BSM offering bundles starting from just RM99, with savings of up to 30%. Or, if you want something different, pick your own body, speech & mind offerings and enjoy a 20% discount.
Then offer to H.E. Tsem Rinpoche's golden stupa for Wesak Day or invite home for yourself.
Participating outlets
VajraSecrets.com
Fixed BSM bundles (for offering only, not available to invite home)
VajraSecrets @ Sunwaymas, PJ
Fixed BSM bundles + pick-your-own (for offering + to invite home)
VajraSecrets @ Kechara Forest Retreat
Fixed BSM bundles + pick-your-own (for offering + to invite home)
Wesak Raffle Terms & Conditions
Winners are determined by a random draw and will be notified via the email address/contact number provided.
Each Winner will be entitled to ONE (1) prize only.
Winners must respond to the notification within 2 days of receipt, otherwise the prize will be forfeited.
Winners shall be solely responsible for any costs and expenses which may be incurred in the redemption and/or use of the Prizes including shipping costs and travel to Malaysia (if applicable).
Prizes are non-transferable and not redeemable for cash.
We reserve the right to amend or add to these terms & conditions without prior notice.
Other terms and conditions apply.